To all who join--writers, artists, photographers and watchers alike--welcome and hallo. Here is my first image to be submitted to Aurtistic. I know the many errors involved, but please, do point out anything you see! This was drawn in Oekaki and took about an hour. I had fun with tones. It contains
mild nudity.
(She is naked, but beneath a blanket; you can see bared female breasts.) If this offends you, don't click the link.
Image Under Cut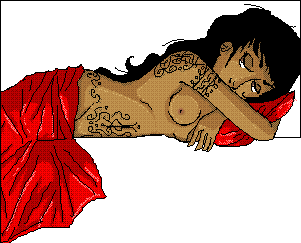 This is The Requiem; her real name goes mostly unknown. She is in her mid-twenties, enjoys wandering the desert, and singing to the dead. The tattoos are ritual markings applied when she was given the position of Requiem (one held by many other women, as well--they're priestesses, of a sort). She is an Emet, a race of nomadic desert tribesmen; her eyes are brown, her hair is black and she has bronze-brown skin. She is not overly tall and rather slim.
I mostly adore her expression and her pose. I curl up like that sometimes. It was sketched quickly, and I didn't spend much time ont he lineart--it shows.
Thank you!
-Bri